2 Alfa Romeo Hatchback, Sedan, Wagons for Sale Under $20,000 in Sunshine Coast, QLD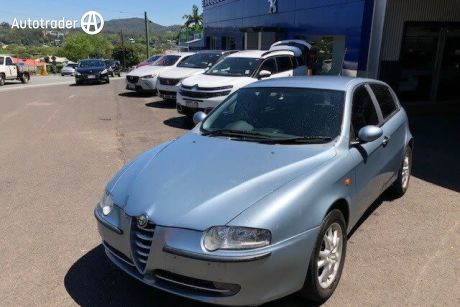 246,924 km
2003 Alfa Romeo 147

2.0 Twin Spark
Dealer: Used
Nambour, QLD • 84km
2003

Alfa Romeo

147

2.0 Twin Spark
Manual
Nambour, QLD
(84km from Sunshine Coast)
Front Wheel Drive
Hatchback
QUEENSLAND, SUNSHINE COAST HINTERLAND, Nambour is where you will find the friendliest family-owned New (Peugeot and Citroen) and Quality Used Car Dealership, where trade-ins are welcome. Test drive from our location, where the roads are some of the quietest to truly enjoy driving...
$7,000
Excl. Gov. Charges
167,000 km
2007 Alfa Romeo 159

Sportwagon 2.4 JTD
Private: Used
Kin Kin, QLD • 44km
2007

Alfa Romeo

159

Sportwagon 2.4 JTD
Automatic
Kin Kin, QLD
(44km from Sunshine Coast)
Alpha Romeo Turbo Diesel Sports Wagon. RED. 5 Cylinder. 6 months rego, RWC. 2009 model. Low ks 170,000. 6 speaker surround system, CD, Bluetooth, great aircon, climate control, cruise control. Auto sensors for lights, wipers,reverse. 19" Alloy wheels + 2 spares, 4 brand new tyr...